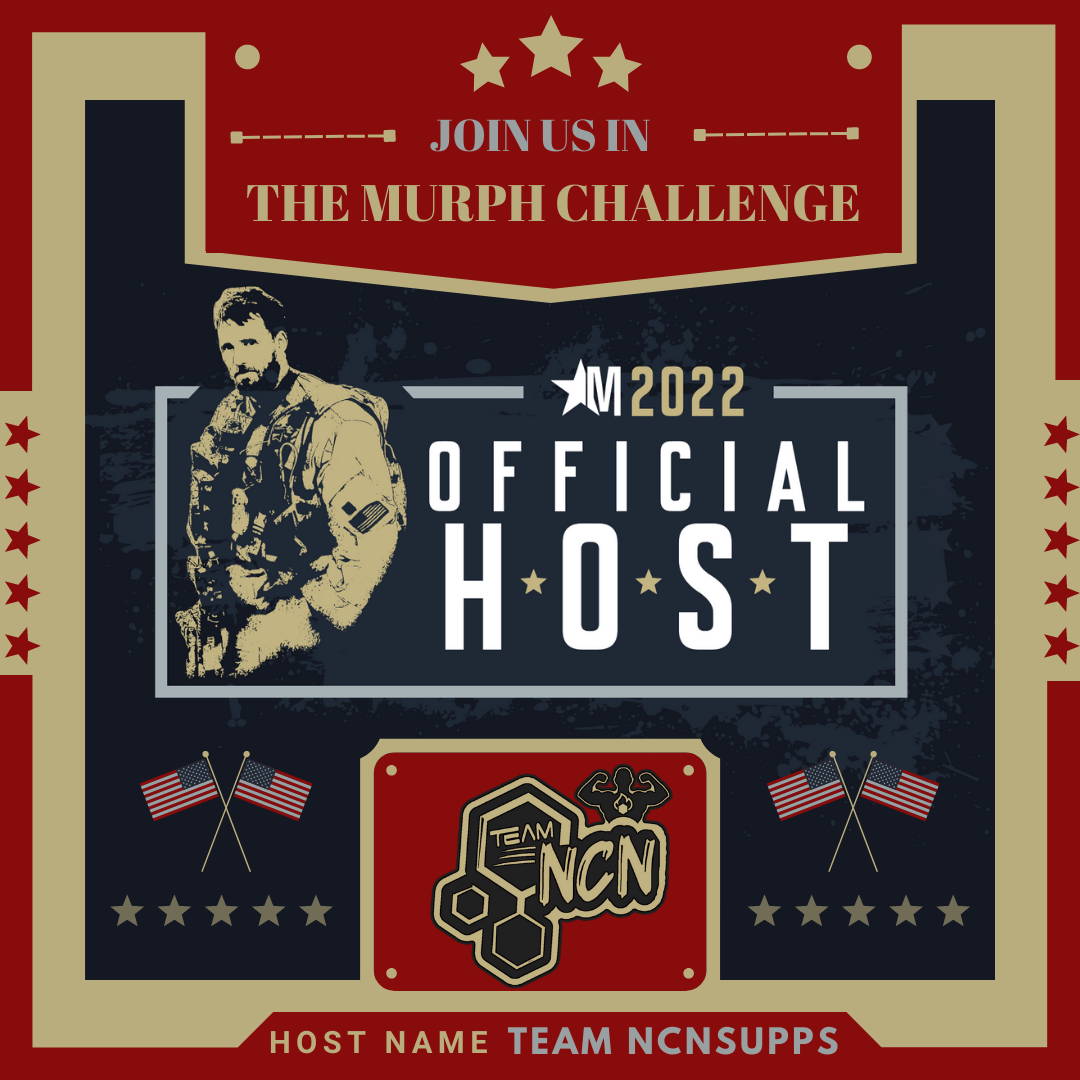 Join TEAM NCN SUPPS for the 2022 MURPH Challenge

In 2020, we participated in this challenge together as a team and this year in 2022, we have decided to accept the challenge once again!

What is the "MURPH" Challenge?

1 Mile Run
100 Pullups
200 Pushups
300 Squats
1 Mile Run
… In a 20 Lb. weighted vest or body armor.

To join us and sign up for this challenge you can register at www.themurphchallenge.com

During the registration process you'll be asked to type in your "Host Team".  This is where you will type in TEAM NCNSUPPS

Once registered and the challenge has been completed you will be able to upload your score to our Team and we will be able to see which place we are in. (Our main focus is to just be the best version of ourselves and complete this challenge for something greater than just a workout).

"It is important to remember that The Murph Challenge is more than just a workout. It is a tradition that helps push us, humble us, and allows us the opportunity to dedicate a bit of pain and sweat to honor LT. Michael P. Murphy (SEAL), a man who sacrificed everything he had for our freedom. Join us this year as we continue to help keep his legacy alive through The Murph Challenge campaign.

Once you register, you will not only be pledging to participate in the Hero WOD 'MURPH', joining a unique group of participants who pay tribute to LT. Michael P. Murphy, but you will also be contributing to a prestigious organization founded by the Murphy family.

After completing The Murph Challenge, each registrant will be asked to return to TheMurphChallenge.com and submit their 'MURPH' time to compare their achievement with other participants worldwide. All times submitted will be displayed on the Official Worldwide Leaderboard found at TheMurphChallenge.com. From that board, the top 5 Men and top 5 Women will be recognized for their efforts."

With that said, Let's take this challenge and accept it together!!

*For any questions, please contact our team captain @vinnie_fit and he will guide you in the right direction!

Register Here: https://themurphchallenge.com/pages/product-register 
TEAM NCN SUPPS 2022 MURPH CHALLENGE
TEAM NCN SUPPS 2022 MURPH CHALLENGE
We are thankful to have had such great people represent our team so well in a great challenge for a cause much greater.
Shoutout to each individual that participated in 2022 The Murph Challenge.
The Murph is a challenge we will continue to participate in each year and dedicate a bit of pain and sweat in honor of LT. Michael P. Murphy.
"It is important to remember that The Murph Challenge is more than just a workout. It is a tradition that helps push us, humble us, and allows us the opportunity to dedicate a bit of pain and sweat to honor LT. Michael P. Murphy (SEAL), a man who sacrificed everything he had for our freedom."